We offer a variety of digital content to help you stand out online and outrank competition
Interactive Virtual Content and Digital Marketing Solutions for:
BENEFITS OF USING A

VIRTUAL TOUR

IN YOUR
DAY TO DAY SALES & MARKETING EFFORTS:
INCREASED CONVERSION RATES
01
Answer a few questions so our team can get a better idea of your vision
03
Coordinate with our live booking calendar and lock in your shoot date
02
Curate your package with exterior drone, photography, social media ads & more
04
Collaborate with our production team to make your creative vision come to life! Receive Project within 48 hours of shoot date.
We're a specialty service that creates 360 Virtual Tours, Drone and breathtaking photos to level up your business.
Experience Media was founded in 2020 by two entrepreneurs who saw the potential of 360 Virtual Tours. We deliver Virtual Tours, Photography, Aerial Services, and Content Marketing across all industries. We understand people work endlessly to grow their business and we want to do our best to showcase each one in the most immersive way possible. Having a strong digital presense as the customer journey migrates more and more online is crucial. Our Interactive Virtual Tours make putting your business on the map, easy and affordable.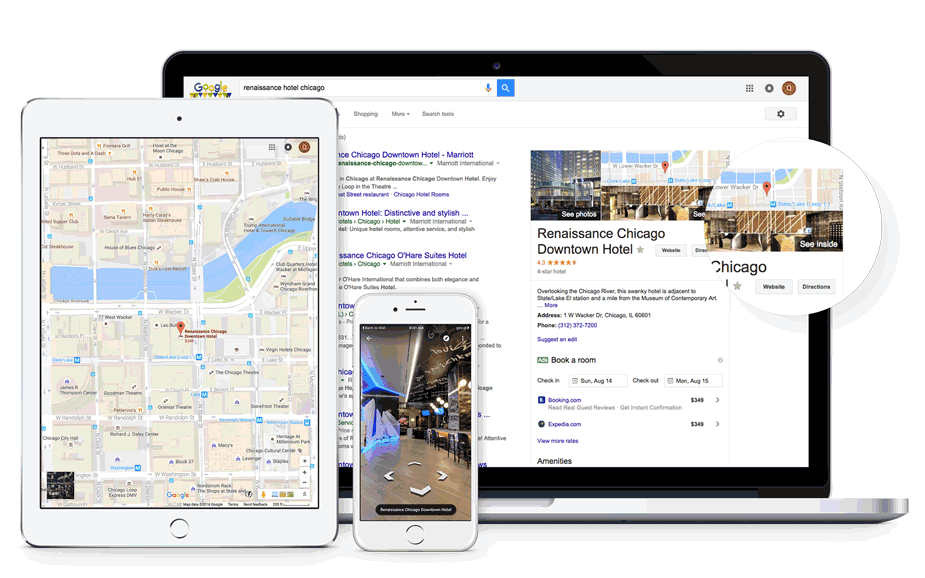 Easy to Use
Simple, powerful, and intuitive interface without distraction.
Immersive Experience
Provide your customers with an immersive experience where they can see details that would be missed with traditional photos.
Works on Mobile Devices
Take your tours with you wherever you go, and share them with others easily.
ACCELERATE YOUR

BUSINESS GROWTH

WITH IMMERSIVE VIRTUAL CONTENT.
Keep People engaged longer
Research shows that people stay on websites with Virtual Tours 5-10x longer than those without. Virtual Tours are interactive which keeps users engaged and clicking for a few minutes touring your space.
​
Increase Trust and Transparency
Give users the sense of really walking through your property from the comfort of their home. Show that your business is open, honest and transparent about your space instead of just claiming it.
​
Increase visibility and Local Rank on Google
Studies have shown that having a Virtual Tour attached to your Google My Business Listing boosts your Local SEO meaning you will rank higher than your local competitors.
​
Saves you Time and Money
A Virtual Tour is a one and done deal that brings many benefits from a digital marketing standpoint.
​
Stand Out in the Crowd
Anyway you can make your business stand out in the digital age we live in is undoubtedly worth it. What better way to stand out than having a 360 Virtual Tour embedded on your website and attached to your Google Listing?
Our Virtual Tour

Portfolio
Our 360 degree virtual tours give customers a first hand experience of your space.
Why choose Experience

Media

?
Receive Content within 1 Business Day

Our Team is

Drone Pilot Certified & Google Street View Trusted
Frequently Asked

Questions?
What services do you provide?

We're a full-service local real estate media company and offer photos, virtual tours, drone, floor plans, virtual staging, marketing kits and more. You can check out our work and pricing here: https://www.experiencevirtualtours.com/order

What do you charge for photos?

Our listing photos package starts at $179.99. You can check out our work and prices at https://www.experiencevirtualtours.com/order

What areas do you cover?

See our Full Service Area Map on our Order Form below: https://www.experiencevirtualtours.com/order We cover primarily the following PA counties: Monroe, Northampton, Lehigh, Carbon, Bucks, Schuylkill, Montgomery, Luzerne, Lackawanna, Berks, Philadelphia, Delaware, Chester, Wayne, Pike. We also cover these NJ counties: Warren, Morris, Sussex, Hunterdon, Somerset

How do I get a Quote?

If you follow the steps with the link below, you will be able to view all of our services and their cost. Select Residential Real Estate, Rental, Commercial or Land and enter any property address to get started. You can close out of the order form at any time! Experience Media Order Form Link: https://www.experiencevirtualtours.com/order

Do you have some work samples?

For sure! You can check out https://www.experiencevirtualtours.com/order to see some of our work.